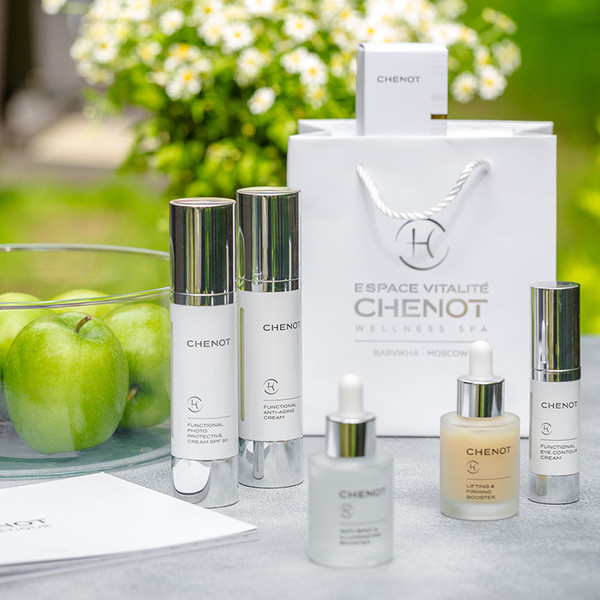 New facial skincare Chenot products at Espace Vitalité Chenot
Espace Vitalité Chenot presents a new cosmetics line, ideal for designing an effective individual program for a facial skin care. Beauty line consists of 2 product types: facial creams and boosters. By combining individually selected cream with one or two boosters you will get skin care according to the personal needs.
Face creams affect deep tissue repair, hydrate, moisturize and keep skin from ageing. Boosters contain powerful ingredients that quickly and effectively stimulate deep tissue repair by strengthening a skin structure. Unique, innovative technology by Chenot Carrier Technology System is a complex decision for fast and visible results. By using creams and boosters simultaneously, their effectiveness can be significantly improved due to the contained bioactive ingredients. Beauty line was created by applying results of the latest scientific studies on peptides and neuropeptides, amino acids, hydrolyzed proteins and vitamins.
New beauty line consists of four creams and two boosters.
Functional Early Signs Cream deeply penetrates into the skin and protects its structure, it also promotes elasticity, addresses first signs of wrinkles, holds your skin firm, hydrated and smooth.
Functional Anti-Aging Cream slows down natural face and neck skin's ageing processes, it leaves skin smoother and firmer and reduces the appearance of mimic wrinkles and fine lines.
Functional Photo Protective Cream SPF 30 works against signs of ageing by protecting the skin from sun damage. It effectively repairs skin from a Photo aging and hyperpigmentation and protects from a formation of wrinkles, dark spots, and uneven skin spots.
Functional Eye Contour Cream smoothes the delicate skin in the eye area: it wards off wrinkles and keeps skin smooth, addresses dark circles and morning puffiness.
Anti-Spot Illuminating Booster reduces dark spots, remedies a dull skin, and brightens a skin tone.
Lifting Firming Booster rapidly improves skin's elasticity, soothes wrinkles, and brightens a skin tone. It leaves your skin smooth and glowing.
You can experience the new beauty products in our spa after the Chenot skin-care treatment. Cosmetics line is exclusively presented in Espace Vitalité Chenot.
Barvikha Hotel & Spa
+7 (495) 225 83 84,
«Barvikha Luxury Village,
8th km of Rublevo-Uspenskoye Shosse